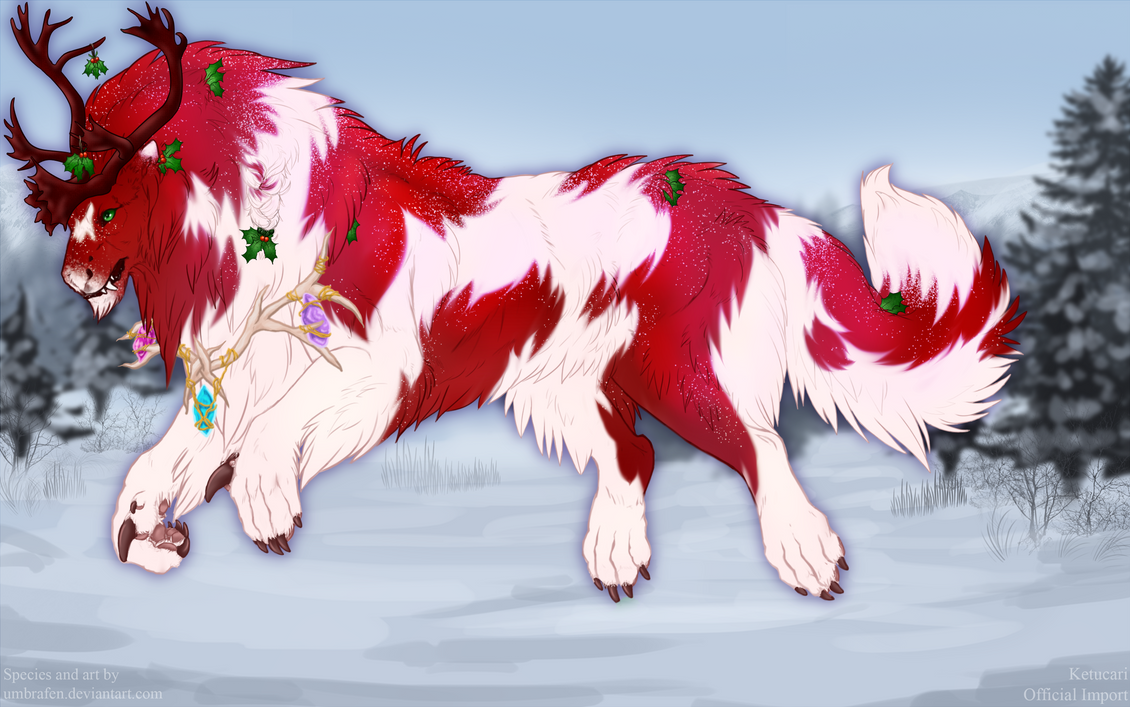 Gift art is allowed

Please ask before gift writing

Not up for trades
Profile
Name:
Neve
Nicknames:
Holly, Smiles
ID:
KT-2043
Ownership:
IIIXKitsuneXIII
(View Ownership History)
Character:
Once killed for angering Anti, Neve has come back as a ketucari. She has recently regained her true godly form, and returned to spreading joy and cheer across Velukaelo! Neve is a friendly, loving creature who has trouble sitting still, and loves a good round of eggnog with loved ones. She can befriend nearly anyone, and is eager to do so. However, Anti's attack has left a mark on her, and the time she spends as her true self is limited without the aid of the three magical crystals that restored her power. Even then, she is exhausted after using her abilities, and sleeps often and long. A fun and thrill seeker, Neve will try anything once if it sounds enjoyable or exciting.
These days she travels less, and spends most of her time in Messus.
Neutral Good, Stubborn as sin.
Gregarious and excitable, a bit reckless, but quick on her feet.
Introspective, meditative, and deeply attuned to the mysticism of the world.
Fascinated by mechanics and learning How Things Work.
Doesn't know when to quit, often lacks a filter.


GIFT ART NOTES: Her ears are partially folded over
Pack:
Owaranai Yume
Attunement:
Talik
Titles/Achievements:
Bastion; Godkiller; Raider of Plains of Messus; Pancake;
Backgrounds:
N/A
Stats from Bonding: 350 Armor; 70 Strength; 70 Dexterity; 40 Perception; 30 Luck; 10 Nobility;
Stats from Potion: 90 Nobility;
Equipment:
High Tier Flip Coin (God Form)
Mithril armor (+1300 Armor) + Blue Daras (+45 Intellect) + 2x White Toresul (+70 Perception) + Red Toresul (+70 Strength) + Amber Toresul (+70 Dexterity)
Ancient Medallion
Accessories:
Trinket x3 (Holly Leaves/Braid by akllozz)
Large Trinket (Crystal Antler Necklace by IIIXKitsuneXIII)
Bleaching Token
Karpati Token
Shimmer Token
Companions:
Healthy
Sex:
Female (Kadin)
Gender/Pronouns:
Kadin, she/her
Genotype:
ee/Ss/Kk/nVi/nPbl/nMtl/nBl/nKr/nSm/WW
Phenotype:
Red with piebald, mottling, bleaching, karpati, shimmer
Build:
Ryno
Breedable?
Yes
Lifetime Breedings:
16/20
Nobility:
160
Renowned
Ancestry:
------------------------------------------ SSS:
Unknown
----------------- SS:
Unknown
------------------------------------------ SSD:
Unknown
Sire:
Unknown
------------------------------------------ SDS:
Unknown
----------------- SD:
Unknown
------------------------------------------ SDD:
Unknown
------------------------------------------ DSS:
Unknown
----------------- DS:
Unknown
------------------------------------------ DSD:
Unknown
Dam:
Unknown
------------------------------------------ DDS:
Unknown
----------------- DD:
Unknown
------------------------------------------ DDD:
Unknown
Designed By:
Akllozz
,
IIIXKitsuneXIII
Art By:
N/A
---
Technical Details
Created
15 July 2020, 18:18:38 UTC
---
Can be gifted
Can be traded
Cannot be sold
x2 Bound Potion to grant 60 nobility, FREE BETA GENO - TRADABLE ONLY