This character was deceased on 17 July 2020, 09:51:07 UTC.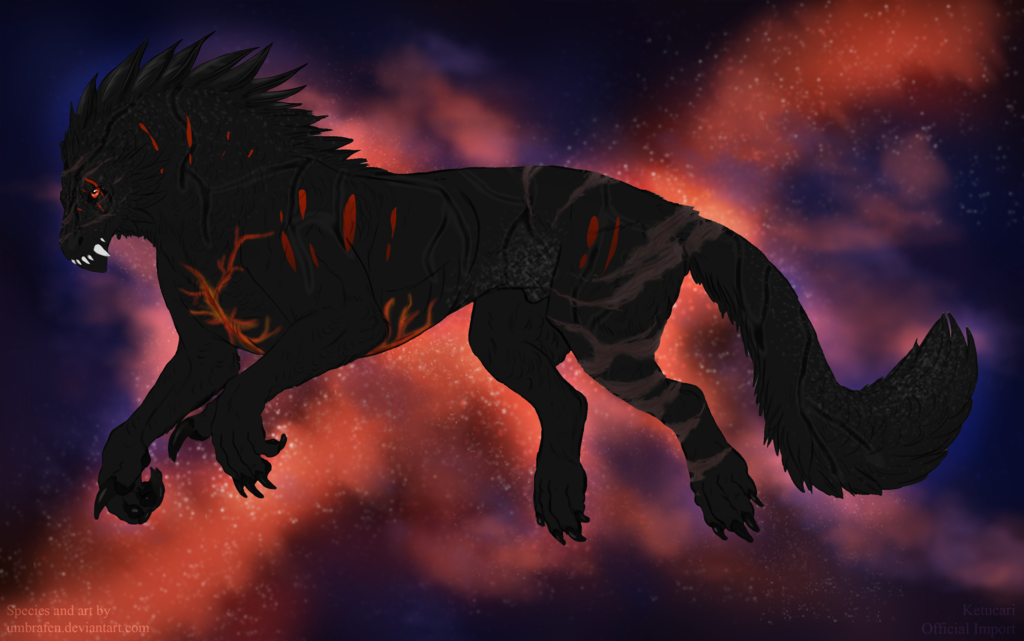 Gift art is not allowed

Gift writing is not allowed

Not up for trades
Profile
Name:
Lich
Nicknames:
Devil; King of the Dead; Nightmare
ID:
KT-034
Ownership:
SilentFox-6@dA
(View Ownership History)
Character:
Shameless and aggressive, Lich combines logic and instinct, making him a fearsome and unapproachable creature whose very demeanor radiates negative energy. He's proven somewhat unpredictable as one moment he'll hold civil conversation, but the next will be drawing blood simply because it entertained him to do so. Be on your guard around this one.
Pack:
N/A
Attunement:
Dasrah
Titles/Achievements:
Feytouched; Initiate; Learned; Master of All Trades; Mighty; Scholar;
Backgrounds:
N/A
Equipment:
Iron Armor (900 armor) + Amber Naliem (50 Dexterity) + Black Heldyrite x2 (30 Cunning) + Red Naliem (50 Strength) + Yellow Naliem (25 Luck)
Tattered Scroll (+25 Perception
+25 Willpower)
Claw Sheaths
Accessories:
Scar Pack x7 (Damaged Left Hind Leg)
Scar Pack x2 (Facial Scars)
Large Trinket (Metal Blades Frill Replacement)
Companions:
Black Tame Mireghast (Collared)
Scourged Tame Mireghast (Collared)
Deceased
Sex:
Male (Toa)
Gender/Pronouns:
-
Genotype:
Ee/SS/KK/nEmr/nV/nMtl/nLc/ww
Phenotype:
Charcoal ember vent mottling lace
Build:
Standard
Breedable?
Yes
Lifetime Breedings:
17/40
Nobility:
150
Elder
Ancestry:
------------------------------------------ SSS:
Unknown
----------------- SS:
Unknown
------------------------------------------ SSD:
Unknown
Sire:
ST-018: Shachath
------------------------------------------ SDS:
Unknown
----------------- SD:
Unknown
------------------------------------------ SDD:
Unknown
------------------------------------------ DSS:
Unknown
----------------- DS:
Unknown
------------------------------------------ DSD:
Unknown
Dam:
ST-001: Kaur
------------------------------------------ DDS:
Unknown
----------------- DD:
Unknown
------------------------------------------ DDD:
Unknown
Designed By:
SilentFox-6@dA
Art By:
N/A
---
Technical Details
Created
15 July 2020, 18:09:02 UTC
---
Can be gifted
Can be traded
Cannot be sold
FREE BETA GENO - TRADABLE ONLY